Press Coverage of Rolfing
Here is a collection of articles and stories about Rolfing that have appeared in major newspapers, magazines and TV programs.
Rolfing on Oprah Dr. Oz and Oprah talk to Rolfer Jon Martine.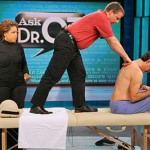 Dr. Andrew Weil's Daily Tips. Four Reasons to try Rolfing. America's leading expert on Alternative and Complimentary Medicine endorses Rolfing.

New York Times, October 2010. Excruciatingly Helpful. See why the NY Times asks, "Is Rolfing one Madonna endorsement away from becoming the next Pilates?"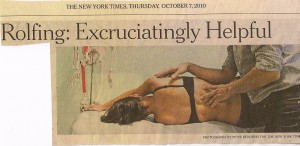 Vogue Magazine "Like yoga, Rolfing is one of those practices your body instantly tells you make a lot of sense." Nice first person account of the benefits of Rolfing.
Yoga Journal Deep Impact. A yoga practitioner finds her body utterly transformed with Rolfing.
Chicago Tribune. Rolfing Revealed. Good general article discussing Rolfing's growing popularity.
Boulder Weekly article featuring Adam Mentzell 2011 Boulder Weekly article profiling Adam Mentzell's practice.
Science Magazine. Cell Biology Meets Rolfing
Sports oriented articles on Rolfing
Trail Runner Magazine Purge your running imbalances with Rolfing.
Bike Monkey. Rolfing for Cyclists. Rolfing for Riders: More Oxygen
Men's Health Everything you know about muscle is wrong. Learn how Rolfers see body patterns in this article by Christopher McDougall, author of the bestselling book, Born to Run.
Climbing Magazine. Rolfing, The Anti-Gravity Device. Explains the unique benefits of Rolfing to rock climbers.
You can find more scientifically oriented articles on the following websites:
Somatics.de. Website of Rolfer and Fascia Researcher Robert Schiep, Ph.D.